New technology and services come from our free and vigorous corporate culture. We are an environment-conscious company where "OTANI-ism" - the spirit of challenge that tackles difficulties without fear of failure - permeates the hearts and minds of each and every employee.


OTANI Steel is a leader in the steel manufacturing industry. We manufacture high-quality steel bars for reinforcing concrete from recycled iron. We continue to pursue the potential of iron with the following key words in mind: "recycling" and "energy saving".

Business
Manufacture and sale of steel products made in an electric furnace
Founded / Incorporated
Dec. 1952 / Jan. 1969
Representative
President: Hisakazu Otani
Capital
480,000,000 yen
Sales
17,986,650,000 yen (for the term ending in December 2015)
Number of Employees
247 (as of April 2016)
Office
@Head Office /@Plant

8-4 Nagonoe, Imizu-shi, Toyama, Japan
yMAPz

@Fukui Office

1-2109 Takagityuou, Fukui-shi, Fukui, Japan
yMAPz
Customers
Marubeni-Itochu Techno Steel Inc., Okaya & Co., Ltd., Kanematsu Trading Corporation, JFE Shoji Kenzai Hanbai Co., Ltd., Sumikin Bussan Corporation, Sumisho Tekko Hanbai Co., Ltd., Toyota Tsusho Corporation, Nippon Steel Trading Co., Ltd., Hanwa Co., Ltd., Mitsui & Co.Steel Ltd., Metal One Corporation
Banks
Development Bank of Japan (Hokuriku Branch), Hokuriku Bank (Head Office Marketing Department), THE TOYAMA BANK (Head Office Marketing Department), The First Bank of Toyama (New Center Branch), Shoko Chukin Bank (Amagasaki Branch),
Financial Highlights
During last three financial years (Unit: million yen)


Revenues
Dec. 2015
17,986
Dec. 2014
21,627
Dec. 2013
19,166

History

| | |
| --- | --- |
| Dec. 1952 | The OTANI Steel Works Co., Ltd. Tateyama Plant was founded in Toyama City, Toyama Prefecture. |
| Jul. 1957 | Name changed to OTANI Steel Works Co., Ltd. Toyama Plant. |
| Jan. 1969 | OTANI Steel Corporation was established, after being separated from OTANI Steel Works Co., Ltd. |
| 1987 | Construction of a new plant in Shinminato City, Toyama Prefecture was begun. |
| Dec. 1988 | The company moved into its new plant in Shinminato City. |
| Jun. 1995 | Started producing SD390 steel. |
| Aug. 2000 | Acquired ISO9002 certification. |
| Aug. 2003 | Converted to ISO9001 (year 2000 version) and acquired that certification. |
| Aug. 2004 | Underwent evaluation to meet the requirements to qualify for WDI (A Method for Maintaining Certification/Registration of Well Developed and Implemented ISO9001 Quality Management Systems) and were found to be in conformity (only the second company so evaluated in Japan). |
| Mar. 2005 | The Production Department's office building was refurbished. |
| May. 2005 | Started producing SD490 steel. |
| Nov. 2005 | Completed a new employee recreation building. (A 3-floor steel-framed building with a total floor space of 900 m2, featuring baths, relaxation rooms, training rooms, mega-screens, free drink machines, etc.) |
| Sep. 2006 | Started marketing SUPER VCON products with ID numbers. |
| Mar. 2009 | Fukui Office opened |
| Feb. 2010 | Started marketing STANDARD VCON products marked with their steel grade and size |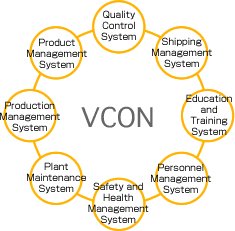 We have a company-wide "borderless" system that helps us develop higher quality and higher value-added products and services. The system encourages ingenious, wide-perspective, freewheeling thinking beyond the borders of departments and domains of expertise.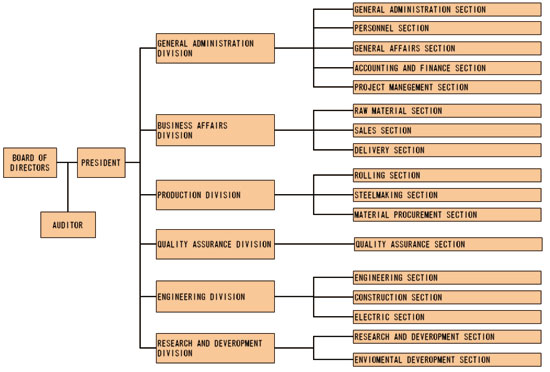 yClick To Zoomz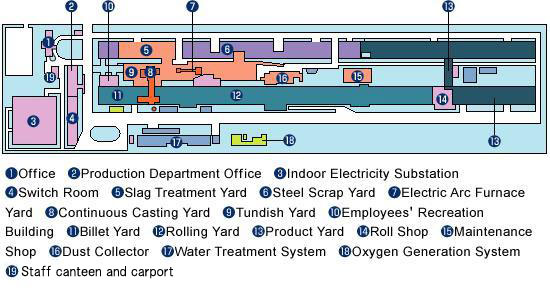 yHead Office and Plantz




yFukui Officez